Cancel Culture Comedy – Stand Up Comedy in English
9 septembre @ 20:30

-

22:30

CHF20 à CHF35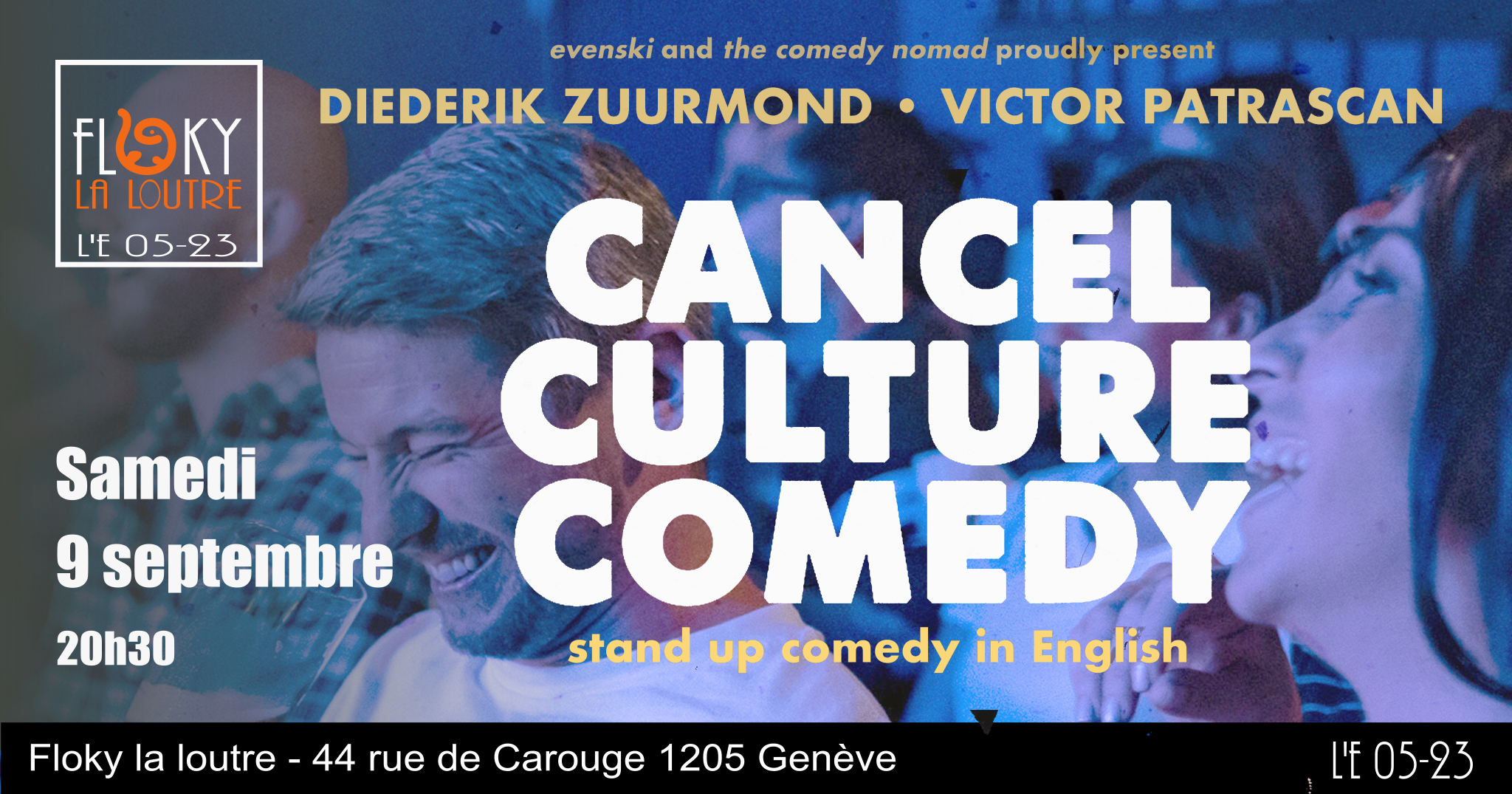 This is a 'safe space' for comedy!
It's our job to tell the jokes that will get you fired from your job!
This show is not for the easily offended. It's comedy at its best, comedians who are unapologetically honest, woke and hilarious!
Expect a night of English comedy at its best on the most controversial topics of today from Victor Patrascan and his hilarious friends! You'll hear tasteful jokes about race, gender, religion, identity politics and all the other controversial topics of today.
🎭 STAND-UP COMEDY IN ENGLISH 🎭
9 September from 8:30 PM until 10:30 PM
🎟️ online tickets from 20 CHF
tickets on the door 35CHF
The show will be held entirely in English
Diederik Zuurmond 🇬🇧 🇳🇱 • @diedzz
Diederik is a comedian. He is funny and has made at least 2000 people laugh. He recently won the English Comedy Talent Awards. Diederik has been described as « funny » and « very funny » and « good-looking yet somehow also funny ».
Magda Mihaila 🇷🇴 • @magdulicious
Magda Mihaila is a comedian who does not believe in borders.
She started doing stand up in her home country, Romania, until she thought more people need to see the world in the same twisted way as her. Now she does stand up each time she travels to a new place just to see if "hahaha" sounds the same in every language.
Seinfeld saw her on The Tonight Show telling one of his jokes to a bunch of cows and called her "the future of comedy". The cows and Jimmy Fallon agreed.
She can make people laugh in English, French, Spanish and Romanian and if that doesn't work she might tickle you.
Victor Patrascan 🇷🇴 • victorpatrascan.com • @VictorPatrascan
Victor Pãtrãşcan is a pretentious stand up comedian and outrageous social commentator who was born in Romania. Since he started performing stand up comedy in 2012, he has told his jokes in front of a crowd of people in the United Kingdom, Japan, Germany, Netherlands, Austria, Turkey, Sweden, Singapore, Denmark, France, Serbia, Switzerland, Thailand, Finland, Belgium, Iceland, Italy, Spain, Ireland, Portugal, the Czech Republic, Gibraltar, South Korea, Norway, Slovakia, Slovenia, Croatia, Vietnam, Poland, Latvia, Lithuania, Luxembourg, United Arab Emirates, Bulgaria, Hungary, Ukraine and Romania.
In 2022, he performed in front of over 16.000 people, in 70 cities from 27 countires on 2 continents. Since April 2021 he's been touring with his self produced stand up comedy shows in English throughout Europe.
In 2019 and 2020, he traveled through Europe with his show called « The Trouble with Being Born Romanian » in over 30 cities. During the same years, he topped the charts at No1 in the rankings of  »Roast Battle London ». Victor was also a special guest on the Romanian TV show iUmor where he provoked with his brash humour.
Victor is now on tour • for more information • victorpatrascan.com
Évènements liés