Fête du Théâtre – Atelier Théâtre
7 octobre @ 17:00

-

19:00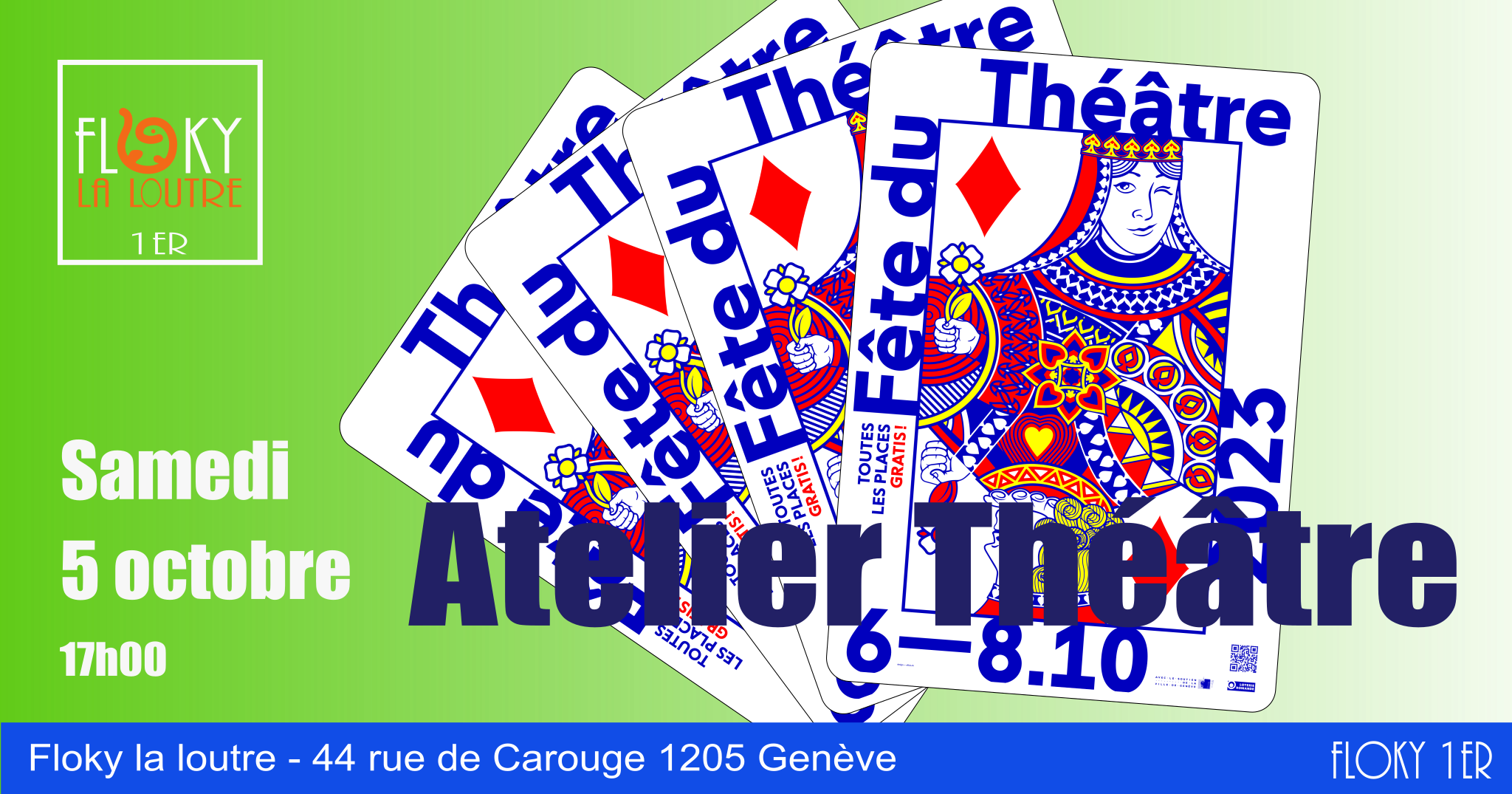 Register yourself for a fun and interactive workshop while you dip your toes in the world of acting. Ideal for people with little or no experience in acting and for people who simply want to try something new and build self-confidence. This workshop will give you the chance to explore acting in a playful and rewarding way, connect with new people.
Participants to this workshop can also sign up to perform in the Theatrical playreading session that will take place at 7pm in the same evening, on Floky's stage.
The Geneva English Drama Society (GEDS) is the home of English language theatre in Geneva. GEDS has been producing amateur plays in and around the city for over 90 years, as well as regularly performing playreadings, running workshops and hosting social theatre events. It currently has approximately  200 members, but always looking for new people to join as actors on stage, but also backstage, front of house, or just socially.
Activities in English:
The GEDS is playing a show in English on Floky la loutre stage. (lien vers la page du playreading à Floky la loutre) La Fête du Théâtre organizes also a Giant Cluedo in French and in English at La Comédie de Genève. (Lien vers la page du Cluedo) You can also discover an english show at l'Almacén. (lien vers la page du spectacle de Murderet à l'Almacén) And a talk in French and in English organized by la Cie Zanco. (lien vers la discussion sur la marionnette géante)
20 places offered
Reservations : reservations@fetedutheatre.ch
022 908 20 31
From 18 years old
Duration : 1h30
***************
Francais
Inscrivez-vous pour un atelier amusant et interactif qui vous permettra de vous familiariser avec le monde du théâtre. Une belle opportunité pour les personnes ayant peu ou pas d'expérience dans le domaine du théâtre et pour les personnes qui veulent simplement essayer quelque chose de nouveau et renforcer leur confiance en soi. Cet atelier vous donnera l'occasion d'explorer le jeu d'interprète d'une manière ludique et gratifiante et de faire connaissance avec de nouvelles personnes.
Les participant.e.s de cet atelier peuvent également s'inscrire pour jouer dans la session de lecture théâtrale qui aura lieu à 19h le même soir, sur la scène de Floky.
La Geneva English Drama Society (GEDS) est le foyer du théâtre anglophone à Genève. Elle produit des spectacles amateurs dans la ville et ses environs depuis plus de 90 ans, et fait régulièrement des lectures de pièces. Elle organise des ateliers et accueille des événements théâtraux. Elle compte environ 200 membres et est toujours ouverte aux nouveaux membres, autant sur scène que dans les coulisses, ou simplement pour son cadre social.
 Activités en anglais :
L'équipe de GEDS propose un spectacle en anglais sur la scène de Floky la loutre. (lien vers la page du playreading à Floky la loutre)  La Fête du Théâtre organise aussi un Cluedo Géant en français et en anglais à la Comédie de Genève. (Lien vers la page du Cluedo) Un spectacle en anglais est programmé à l'Almacén. (lien vers la page du spectacle de Murderet à l'Almacén) Et enfin, une rencontre en français et en anglais est proposée avec la Cie Zanco. (lien vers la discussion sur la marionnette géante)
022 908 20 31
Dès 18 ans
Durée : 1h30
Évènements liés