Notorious B.I.L.G.E – English Standup
8 septembre @ 20:00

-

22:00

CHF10 à CHF25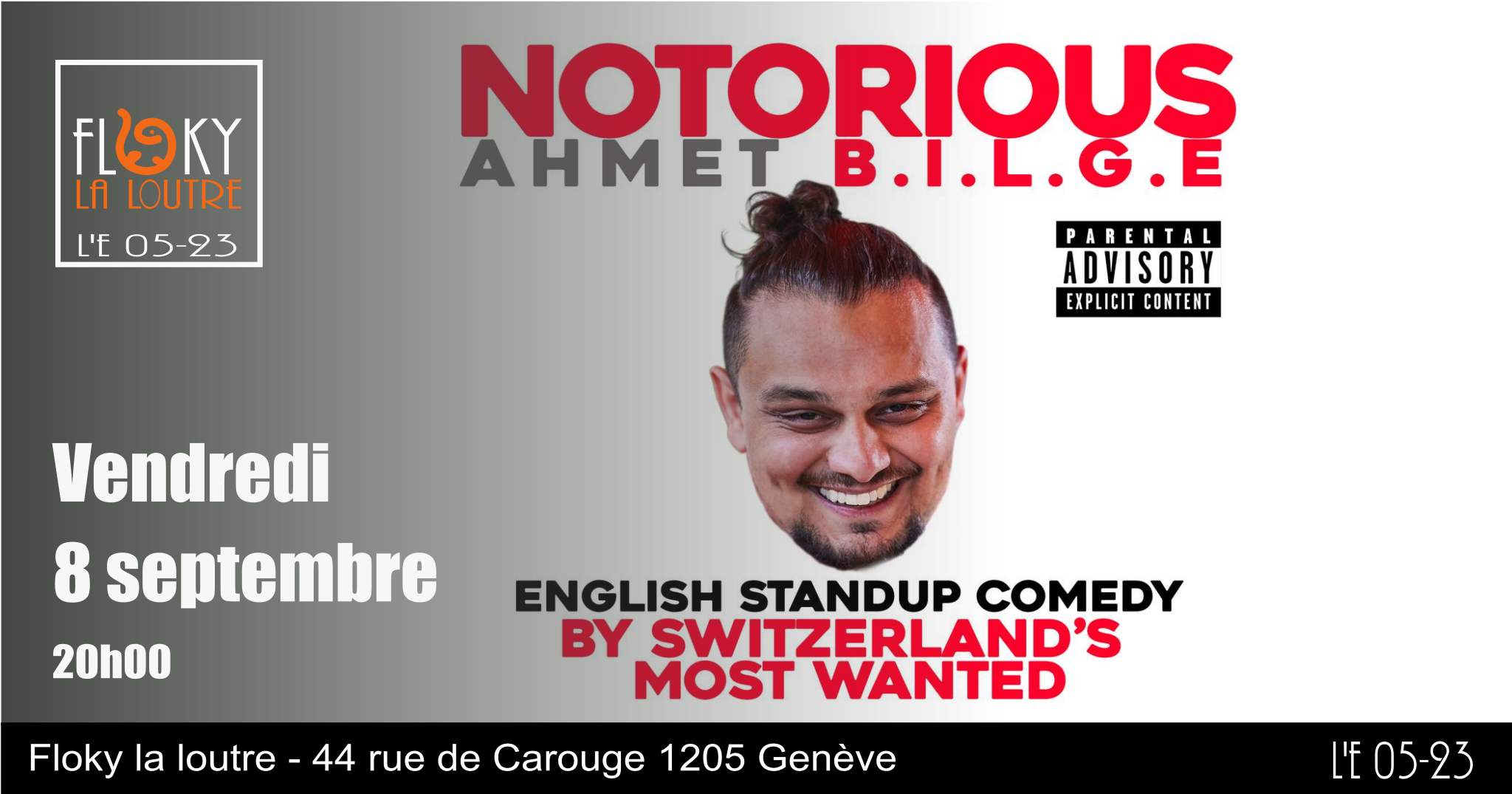 Notorious B.I.L.G.E. : A Night of English Standup Comedy with Comedian Ahmet Bilge!
Switzerland's Most Wanted is here with a Solo English Standup Comedy Show!
It was all a dream.
Every year in September I do a Solo-Show, a whole night only with yours truly. People always ask me when they can watch a show with only me so THIS is that time. I'll have smth new, smth old & smth blue so everyone can enjoy this night. I always love to bounce off the crowd with unpredictable Crowd Work moments so this night is for sure going to be memorable. Come laugh with me!
AHMET BILGE
————————————
Ahmet grew up in the US, matured in Turkey & now he's slowly decomposing in Switzerland. Despite being a « chubby young starving artist » in one of the world's most affluent countries, his outlook on life, witty jokes and embarrassing personal anecdotes is honest, silly & likeable.
He loves to speak with the crowd & perform off the cuff while playing around with the audience. Rising to be one of the top players in Europe, he is branching out to the World Wide comedy scene with performances in Thailand, Germany, Austria, Slovakia, Turkey, France, Czech Repulic, Hungary, Portugal & now for the first time in Geneva!
And audience love him, here are some testimonials from his shows!
« One of the best I have seen it. Clever, funny and relaxed. Well done and please continue Ahmet  »
​ »Ahmet Bilge is a really funny guy living his love to make people laugh. Ahmet's comedy shows deliver an overdose of humour amid an atmosphere ideal for meeting like-minded people. »
« Ahmet really brought us to tears of laughter. I had such a blast. It was a first here and hopefully there will be many more to come…  »
« Ahmet was HILARIOUS! He interacted with the audience a lot, which made the whole show feel even more intimate. He also had a great flow »
« Tonight was a really good one. Loved the show.. Ahmet is a natural at this and I really hope he'll remember that he owes me a Beer.  »
Évènements liés